Win a Brand New Deluxe Arm Pillo!!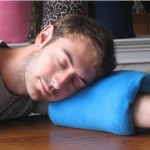 Our first giveaway went so well, that we're holding another one! But this time, there will be TWO winners!
This time, we're giving away another of MeWanty's most popular items on the site, the Deluxe Arm Pillo, graciously donated by the creator of the Arm Pillo. The new version of a Me Wanty favorite – the Original Arm Pillo – is even softer and fuzzier than before. And don't forget – there's TWO of them! One blue, one pink – both of them ultra-soft and cuddly.
We've got TWO to give away, and you've got TWO weeks to win one. Twice the loot means twice the chance to win!
Enter for your chance to win by liking us on Facebook, following us on Twitter, and/or letting us know a few things about what you like here on the site. You can even win a bonus entry by liking Arm Pillo on Facebook!
Just a quick note on entries — please be honest! If you win, we will be checking to make sure any task you took credit for (liking us on Facebook/Tweeting about the giveaway/etc.) was actually completed.
Entries will close just after midnight (EST) on Monday, September 10th. A winner will be drawn at random, and will be notified by email within 24 hours.
View detailed additional rules that apply to this sweepstakes.
Good luck!